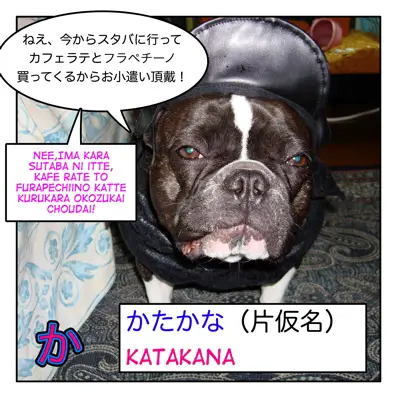 🐶「ねえ、今からスタバに行ってカフェラテとフラペチーノ買ってくるからお小遣い頂戴!」
= Nee, ima kara sutaba ni itte kafe rate to furapechiino katte kuru kara okodukai choudai!
= Hey, I will go to Starbucks to get a Caffe Latte and Frapechino, so give me some money!
(お小遣い:okozukai = allowance 頂戴 :chodai = Give me! 買ってくるから : kattekuru kara because I will go buy…)
Today we will learn 片仮名  = カタカナ = Katakana words.
Katakana words are used when writing foreign words, foreigners' names, country names and etc.
Ex. レストラン  (resutoran) = restaurant
• イギリス ( = igirisu) = U.K.
• カナダ人  ( = kanada jin) = Canadian
•アイフォーン ( = ai fo~n) = iPhone
Lots of Japanese people try to write "katakana" when they see/hear some English words that they can't pronounce. It acts as a reading aid.
Ex. My name is Maggie. =マイネーム イズ マギー ( = mai neimu izu magii)

Some foreigners seem to stumble over "katakana" words when reading and listening.
Part of the reason for this is that Japanese people change the original pronunciation. Also some of the "katakana" words are completely different from the original words because they abbreviate them.
Ex. パーソナルコンピューター (paasonaru konpyuutaa)→パソコン(pasokon) = a personal computer
Here's a list of so-called "Japanglish" words.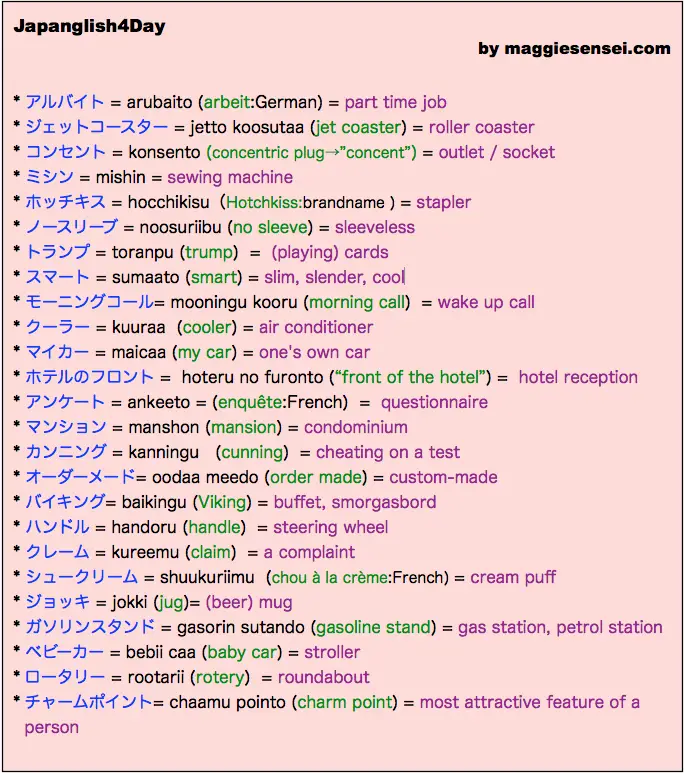 ⭐️テスト ( = tesuto) TEST
OK, let's practice. Fill in the following blanks by either listening to the sound file or reading. You choose!

⏬

1) 明日(     )の(     )に行くの。

Ashita (    ) no baagen ni ikino.
I'm going to a sale at the department store tomorrow.

2)彼は(    )で(     )をしています。
Kare wa (    ) de(    ) wo shiteimasu.
He is working part-time at a convenience store.
3)この(                     ) は3(      )の長さです。
Kono (    ) wa san (    ) no nagasa desu
That truck is 3 meters long.

4)今晩、(     )を飲みながら(   )を見ます。
Konban (    ) wo nomi nagara (    ) wo mimasu.
I'm going to watch a night (baseball) game and drink beer tonight.

5)その(     )可愛いですね。
Sono (    ) kawaii desune.
That dress (one-piece) is cute!.
6)(    )に答えて下さい。
(    ) ni kotaete kudasai.
Please respond to the questionnaire.

7)昨日、あの有名な(    )に(     )をもらいました。
Kinou ano yuumeina (     ) ni (    ) wo moraimashita.
I got an autograph from that famous TV personality (or entertainer. )

8)この間、(      )に行って(      )を(     )にこぼしました。
Kono aida (         )ni itte (    ) wo (    ) ni koboshimashita.
I spilled ketchup on my T-shirt at Kentucky Fried Chicken the other day.

9)(        )が切れたので(     )に買いに行きます。
(       ) ga kireta node (    ) ni kai ni ikimasu.
I'm running out of toilet paper so I will go buy some at a supermarket.
10)最近、とても(      )になったね。
Saikin totemo (    ) ni nattane.
You look so slim lately.
答え:
1)デパート( = depaato) a department store、  バーゲン ( = baagen) sales

2)コンビニ ( = konbini ) a convenience store、 アルバイト( = arubaito) a part-time job

3)トラック ( = torakku) a truck 、 メートル (meetoru) meter

4)ビール ( = biiru) beer 、 ナイター ( = naitaa) a night game (→ baseball)

5)ワンピース (  = wanpiisu) a dress

6)アンケート ( = ankeeto) a questionnaire

7)テレビタレント ( = terebitarento) a TV personality , an entertainer 、 サイン ( = sain) autograph

8)ケンタッキーフライドチキン (= kentakkii furaido tikin) Kentucky Fried Chicken、
ケチャップ ( = kechappu ) ketchup 、ティーシャツ ( = tiishatsu) T-shirt

9)トイレットペーパー ( = toiretto peepaa) toilet paper、スーパー ( = suupaa) a supermarket

10)スマート ( = sumaato) slim

フロム マギー (From Maggie)

ハ〜イ!エブリワン!今日のレッスンはエンジョイしてくれましたか?
(Hi, everyone! Did you enjoy today's lesson?)

***
Will you be my Patron? 
I appreciate your support!  サポートありがとう!