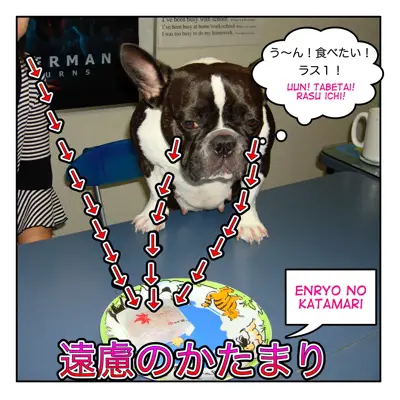 🐶「う〜ん、食べたい!ラス1食べたい!」
= Uun rasu ichi tabetai!  
= "Oh~~I want the last piece!"
The other day, I posted "Enryo" lesson. This is an additional lesson.
「遠慮のかたまり」(= "Enryo no katamari") is a fun word to remember and you may not be able to find it in a dictionary.
Mostly in Kansai (west part of Japan such as Osaka, etc.) area. But we hear that often in Chubu (ex. Nagoya) area as well.
What is it?
Well, as I explained the other day, "some" Japanese people are  「遠慮深い」( = enryobukai ) (being politely reserved).
You know in certain situations when you eat with your friends or family, you see the last piece of food or snack left on a plate which nobody has the guts to eat because other people might think you are a pig! Everybody knows that it is there but they all act as if it doesn't exist.
That is called 「遠慮のかたまり」("Enryo no katamari") "a last piece of food/snack which people are reluctant to eat for courtesy.)

If that happens, someone might jokingly point to the last one and say "遠慮のかたまり!"( = Enryo no katamari! )
or
「誰かこの"遠慮のかたまり"食べたら?」
= Dare ka kono enryo no katamari tabetara?
=  "Somebody should eat this last piece!"
「塊 」(or 「固まり」)"Katamari" is a piece or lump.
I was thinking…

「う〜ん、食べたい!ラス一!」"Uu〜n tabetai! Rasuichi " means "Oh…I want the last one!"

「ラスイチ」「ラス一」, or 「ラス1」( = rasu ichi) 
Rasuichi is a slang and means "the last one". It is not that common slang word but it is fun to remember.

最後の一つ or 一個  saigo no hitotsu (or ikko) (the last one)
→ラストの一つ (  = rasuto no hitotsu)   
ラスイチ(イチ=1or 一) ( = rasuichi) 
You may hear that expression in a boutique.
「これラスイチですよ!」kore rasu ichi desuyo! "This is the last one!"

:k: 「食べたい」tabetai :〜(し)たい (shi)tai = want to (wanna) + do something
Ex. 1)     寝たい( = netai) want to sleep ( 寝る neru = to sleep)

Ex. 2)  歌いたい ( = utaitai)  want to sing (歌う  utau = to sing)


このラスイチのお菓子は、広島名物、「紅葉まんじゅう!」です!
誰が「遠慮のかたまり」を食べたって?当ててみて!
Kono rasu ichi no okashi wa hiroshima meibutsu "momiji manjyuu" desu!
Dare ga "enryo no katamari" wo tabetatte? Atete mite!

That last piece of sweet is called "Momiji manjyuu" which is very famous in Hiroshima.
Who ate that last piece? Guess who!

***
Will you be my Patron? 
I appreciate your support!  サポートありがとう!