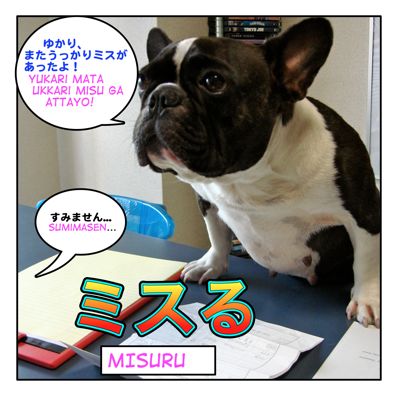 「ゆかり、またうっかりミスがあったよ。」
= Yukari mata ukkari misu ga attayo.
= Yukari, you made another careless mistake.

「すみません…」
= Sumimasen…
= I'm sorry…
I have been giving my Twitter followers a daily quiz.
The other day, I gave them a translation exercise, and they didn't seem to know some of the words. Today I'll make lessons out of the key words.
The first one is ミスる =  misuru
ミス (= misu) means a mistake, a blob
Synonyms :
★ noun : 失敗 ( = shippai)→ verb : 失敗する ( = shippai suru),
★ noun :間違い  ( = machigai)→ verb : 間違える ( = machigaeru)
★ noun :へま ( = hema)→ verb : へまをする   ( = hema wo suru)
★ noun :しくじり  ( = shikujiri) → verb : しくじる ( = shikujiru)
ミス ( = misu) came from an English word, "to miss" or "a mistake"
*ミスがある = misu ga aru = There is a mistake
*ミスがない = misu ga nai = There are no mistakes
*ミスをする = misu wo suru = to make a mistake, to make a boo-boo
*ミスを犯す = misu wo okasu = to make a mistake
Ex. ミスが一杯ある。
= Misu ta ippai aru.
= There are a lot of mistakes.
As you can see in the picture,
:yy: うっかりミス ( = ukkari misu)  is a careless (thoughtless) mistake.
Ex. うっかりミスをなくさないといけません!
= Ukkari misu wo nakusanai to ikemasen!
= You have to prevent making careless mistakes.
Ex. これはうっかりミスだ。
= Kore wa ukkari misu da.
= This is a careless mistake.
Serious mistake is called


重大ミス

= juudai misu
= a blunder, serious mistake
Ex. 重要な仕事だからくれぐれもミスのないように。

= Juuyouna shigoto dakara kuregure mo misu no nai you ni.

= This is a very important job so please be careful not to make any careless mistakes.


Now we shorten it and say ミスる  ( = misuru)  in colloquial Japanese.
Ex. 仕事でミスった。

= Shigoto de misutta.

= I made a mistake at work.
Ex. 今日はぼうっとしていてミスってばかりだ。

= Kyou wa boutto shiteite misutte bakarida.

= I have been spaced out all day, and I've kept making mistakes.

So now go back to the quiz I made for Twitter,

 「ミスっちゃった! 」

= Misucchatta!
Means

:l: I made a boo-boo!!
We have more coined verb like this.
We have already studied
:w: ググる = guguru ←Google
= to google
:w: サボる = saboru  ←sabotage
= to skip school or work on purpose or to be lazy
I will teach you some new ones. Are you ready?

:kkk: トラブる = traburu  ←trouble


to have troubles.
Ex. ちょっとトラブったので遅れます。

= Chotto torabutta node okuremasu.

= I am having a little trouble so I'll be late.
:s: デコる = dekoru ←decoration


to decorate
Ex. 携帯、自分でデコっちゃった。
= Keitai jibun de dekocchatta.
= I decorated my cell phone by myself.

:ii: メモる = memoru ←memo(randum)

to take a note, to write down !memomemo!

Ex. いいの?メモらなくて。

= Iino? Memoranakute?

= You don't want to take notes?
Ex. ちょっとメモっておくわ。
= Chotto memotte oku wa.

= I will write it down.
!yflower! タクる = takuru ←taxi

to take a taxi
Ex. もう最終出たからタクって帰る。
= Mou saishuu detakara takutte kaeru.
= The last (train or bus) has already left so I will take a taxi home.

:w: ハモる (= hamoru ) ← harmony


to harmonize

We use it when we sing together.
Ex. よくハモってたね。
= Yoku hamotte tane.
= You harmonized very well.


:k: ダブる = daburu ← double


to have the same two things by chance
Ex. 昨日買ったものと同じ本をもらったの。ダブったから1冊あげる。
= Kinou katta mono to onaji hon wo morattano. Dabuttakara issatsu ageru.
= I got the same book that I bought yesterday. Since I have two now, I'll give you one.

パニクる = panikuru ← panic


to get panicked.
Ex. 今日は、抜き打ちテストがありみんなパニクってた。
= Kyou wa nukiuchi tesuto  ga ari minna panikutteta.

= We had a pop quiz and everybody panicked.
These are not originally from foreign words but they are coined verbs as well.
!yflower! テンパる = tenparu

to get nervous (from mah-jong term)
Ex. 何テンパってるの?
= Nani tenpatteru no?
= Why are you so nervous?
!yflower! コクる = kokuru ←告白する = kokuhaku suru


to confess, to tell someone that you love him/her for the first time.
I have mentioned in my 愛している = aishiteiru lesson
Ex. 彼女にコクったら断わられた。
= Kanojo ni kokuttara kotowarareta.
= I told her how I feel (for the first time), and she turned me down.
!yflower!   事故る = jikoru ← 事故を起こす = jiko wo okosu, 事故に遭う = jiko ni au

to have a car accident
Ex. 今、事故っちゃったからこれから警察に行きます。
= Ima jikocchattakara korekara keisatsu ni ikimasu.
= I just got into a car accident, so I will go to the police now.

  :kkk: きょどる = kyodoru ← 挙動不審 ( =  kyosou fushin)
= to act or behave suspiciously,  in a strange way
Ex.あの人、きょどってたな。
= Aitsu ano toki kanpeki ni kyodottetana.
= He was acting weird…
マギー先生より

= Maggie Sensei yori = From Maggie Sensei
今日のレッスンは如何でしたか?

= Kyou no ressun wa ikaga deshitaka?

= How did you like today's lesson?
ちゃんとメモってね。

= Chanto memotte ne.

= Please take notes, OK?
***
Will you be my Patron? 
I appreciate your support!  サポートありがとう!