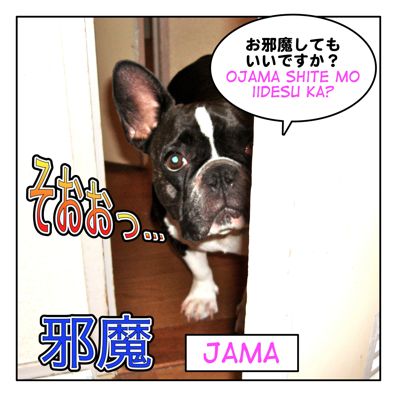 そおお…=Sooo…(the sound to describe someone coming in or peeking quietly or in secret.)
「お邪魔してもいいですか?」
=Ojama shite mo ii desuka?
=May I come in?
Hi everyone! There has been a slight problem with our current Mini Lesson format. I may eventually have to move all the Mini lessons here (it will be a nightmare..) but anyway… I will post Mini Lesson here for a while.

Today's key word is 邪魔=jama
It means obstacle, imposition, hindrance, interruption, disturbance, interference,etc
For example, if you see someone in your way, you say,

「邪魔だからどいて!」
=Jama dakara doite!
=Get out of my way.
If you see something in your way, you say

「これ邪魔だからどけて!」
=Kore jama dakara dokete!
=This is in my way. Move this!

「そこの自転車、駐車するのに邪魔だからどけてくれる?」
=Sokono jitensha chuusha surunoni jama dakara dokete!
=Can you move that bike because it's in the way and I can't park.
The verb form is 邪魔する=jama suru=to bother someone, to bug someone, to be in one' s way

If someone is bothering you or in your way, you say
「邪魔しないで!」
=Jama shinaide!
=Don't bother me. /Don't get in my way!

So 邪魔=jama is negative and kind of strong to use towards other people but if it is referring to yourself, it sounds very humble.

For example like in the picture above, when we visit someone's house, we say,
「お邪魔します。」
=Ojama shimasu.
(The literal meaning is "I will come in although it is bothering you." Saying this is just a formality.)

If someone invites you to their house and you accept the invitation, you can also say
「じゃあお邪魔します。」
=Jaa ojama shimasu.
=Well then I will visit you.(to bother you)

If you are already in someone's house and see their family member, it is polite to say,
「お邪魔しています。」
=Ojama shiteimasu.
=(The literal meaning is "Sorry that I am at your house to bother you." "Sorry I am in your house" But it just means "Hello" in a polite and humble way.)
Guest teacher Sano-Sensei"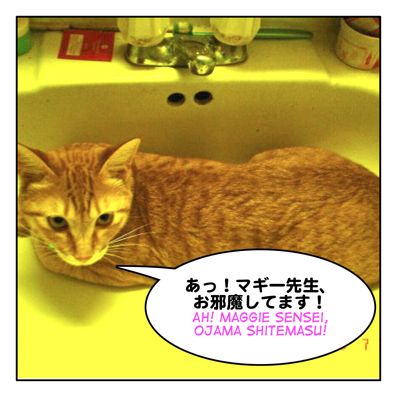 「あっ!マギー先生、お邪魔しています。」
=Ah! Maggie-Sensei, Ojama shiteimasu.
=Oh, Maggie Sensei. I am sorry to impose.
And when you leave the house, you should say
「お邪魔しました。」
=Ojama shimashita.
The literal meaning is "(Sorry that )I bothered you!" Again it is considered to be polite to say this to the family who has all the troubles to have you. Also  don't forget to say
「御馳走様でした。」=gochisou sama deshita.
if they served you a cup of tea, sweets or food.

Someone has a date and they invite you to go somewhere with them.

「お邪魔じゃない?」
=Ojama ja nai?
(Women will often add this with お=0 to the front 邪魔=jama)
or「 邪魔したくないからやめとく」
=Jama shitaku nai kara yametoku」
=I don't want to be the third wheel so I won't go./Three is a crowd.
It is a bit old fashioned slang but we call ourselves or others who are the third wheel as
お邪魔虫(=or ムシ)=ojama mushi
虫=mushi=means a bug

From Maggie Sensei
今、ご飯食べてるから邪魔しないでね!
=Ima gohan tabeteru kara jama shinai dene.

=I am eating now so don't bother me!