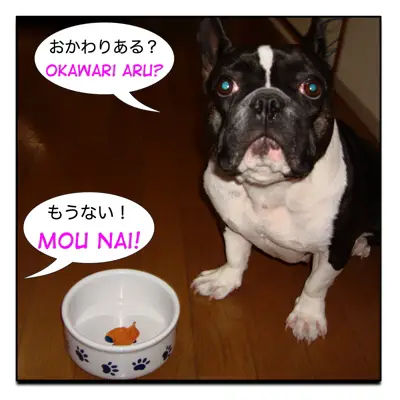 「おかわりある?」(=Okawari aru?)
"May I have seconds?" (←Do you have seconds for me?)

「もうない!」 (=Mou nai!)
"No more food left!"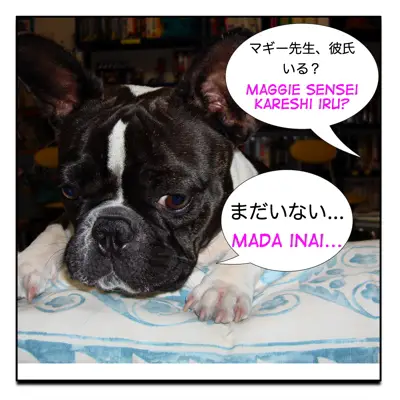 「マギー先生、彼氏いる?」(=Maggie sensei, kareshi iru?)
"Miss Maggie, do you have a boyfriend?"

「まだいない…」 (=Mada inai…)
"Not yet…."
Hello,everyone! In response to a request from Z-san, I will make a lesson about いる&ある(iru + aru).
<Basic grammar>

Basically「いる」(=iru) and「ある」(=aru) are both verbs used to indicate that something exists or "is"in Japanese. We use them when we want to say:
"there is/are" . While 「いる」(=iru) is for people or animal (=living creatures), we use 「ある」(=aru) for other things, such as things, events, concepts, etc.
「いる」(=iru)
(politer)「います」(=imasu) →「いらっしゃる」(=irassharu)
(negative forms)

「いない」(=inai)
(politer)「いません」(=imasen) →「いらっしゃいません」(=irasshaimasen. )
「ある」(=aru)
(politer)「あります」(= arimasu)
(negative forms)
「ない」(=nai)
 「ないです。」(=naidesu) or「ありません」(= arimasen)
See the following examples:
Ex. あの角にコンビニがあります。
(=Ano kado ni konbini ga arimasu.)
There is a convenience store on the corner.

Ex.図書館には高校生が一杯いる 。
(= Toshokan niwa koukousei ga ippai iru.)
There are lots of high school students in the library.
Ex. 今、どこにいるの?
(=Ima doko ni iruno?)
Where are you now?
Ex. 昨日、ここで事故がありました。
(=Kinou koko de jiko ga arimashita.)
There was an accident here yesterday.
Also iru and aru have a meaning of "to have" "to own"
Ex. 彼には家庭があります。
(=Kare niwa katei ga arimasu.)
He has a family.
Ex. いい考えがあります。
(=Ii kangae ga arimasu.)
I have a good idea.
Ex. 私には弟が二人います。
(=Watashi niwa otouto ga futari imasu.)
I have two brothers.

Let's check the pictures above!

Ex. 「おかわりある?」
(=Okawari aru?)
means "May I have seconds?" but its original meaning is "Is there a second serving for me?" (or Do you have seconds for me?)
「もうない!」 (=Mou nai!)
"No there isn't any!"
Ex.「マギー先生、彼氏いる?」
(=Maggie sensei, kareshi iru?)
"Miss Maggie, do you have a boyfriend?"

「まだいない…」 (=Mada inai…)
Note : もう(=mou) already / まだ(=mada) yet,still
漢字(=kanji)
There are kanji for いる and ある.

いる (=iru)→ 居る
居 : iru/kyo
Ex. 居留守(=irusu) pretend not to be at home
Ex. 住居(=juukyo) residence

ある(=aru) →有る or 在る
有 aru/ari/yuu
Ex. 有限(=yuugen) finite
Ex. 有償(=yuushou)fare-paying
在 aru/zai
Ex. 存在(=sonzai) existence
Now let me refer to the questions from Z-san:
1) The dictionary says that in the sense of 'to be/exist', both iru and aru are usually written using kana, but in the sense of 'to have', it doesn't say this, suggesting that in that sense, you do use the kanji. Is this true?
We tend to use kana for "aru" and "iru" not just in the sense of "to be/exist" but also in the sense of "to have" in modern Japanese. Japanese government tutorials for public documents also suggest that we should use kana, いる+ある, instead of using kanji, 居(る)/有(る)、在(る), in the newspaper, public documents or text books along with many other kanji such as 事 (koto)、出来(る)(=dekiru)、etc.

For example,

マギーには才能が有ります。/あります。
(=Maggie niwa sainou ga arimasu.)
Maggie has talent.
You can see them both in kana and kanji but using kana is more common than kanji.

Try to Google 才能がある and 才能が有る and compare the number of hit. You will get more hits with ある。

2) The dictionary lists two kanji for 'aru', 在る and 有る. Both are listed as meaning the same thing and being roughly equally frequent in use. When do you use one or the other, and why?
You are right. They are both listed as in the same meaning in many dictionaries. They originally came from Chinese where there was a clear difference between them but the difference has become more blurred in Japan.

Although we tend to avoid using kanji for "aru" nowadays as I mentioned above, if we have to use kanji, we would distinguish them as in the following cases.
I would say we use 在 to indicate the location of a building, facility, etc. Also we use it when we want to emphasize the meaning of its existence not just buildings but also resorces, nature, group, statues, meaning or essence of things.

•山が在る
(=yamaga aru)
There is a mountain.

•東京に本社が在る
(=Toukyou ni honsha ga aru) 
The Head Quarters is in Tokyo.

•国が在る
(=kuni ga aru)
to exist a country
•基地が在る
(=kichi ga aru)
There is a base
And we would use 有 when we refer "to have or posses things, ideas, talents, will, aura, etc. "

•車が有る 
(=kuruma ga aru)
There is a car / to own a car.

•お金が有る
(=okane ga aru)
to have money / there is money
•人気が有る
(=ninki ga aru)
to have popularity (to be popular)
•手に職が有る
(=teni shoku ga aru)
to have skills
So I hope I have answered your questions,Z-san :D


 マギー先生より(=Maggie sensei yori) From Maggie-sensei
おかわりがもうないみたいだから、今日のレッスンはここまでね。皆ももし何か"こんなレッスン作って!"っていうリクエストがあったら教えてね。"気が向いたら!?"作るから。
(=Okawari ga mou nai mitai dakara kyou no ressun wa koko made ne. Mina mo moshi nanka "konna ressun tsukutte"tte iu rikuesto ga attara oshiete ne. "Ki ga muitara!?" tsukuru kara.)
Since you're not giving me seconds, I'll wrap up today's lesson. If you want me to make a lesson for certain topics, please let me know. I will work on it "if I feel like it!".