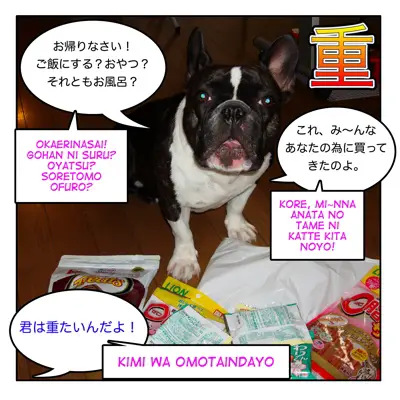 「お帰りなさい!ご飯にする?おやつ?それともお風呂?」
(=Okaerinasai! Gohan ni suru? Oyatsu? Soretomo ofuro?)
"Hi hon, Do you wanna have dinner first? A snack? How about a bath?"

「これ、み〜んなあなたの為に買って来たのよ。」
(=Kore, mi~nna anata no tame ni katte kita noyo!)
"I bought all of these just for you!"

:h: 「君は重たいんだよ!」
(=Kimi wa omotain dayo!)
"You do too much for me!"

After studying 軽 , we will focus on this kanji!
重 omoi / omotai / kasa / juu/ chou
• 重い (=omoi)
heavy
• 重たい (=omotai)
heavy

Note: 重い(=omoi)& 重たい (=omotai) both have the same meaning: "heavy" . We don't usually distinguish between them very much but I think重たい
(=omotai)is a bit stronger than 重い (=omoi).
重い(=omoi) is objective and 重たい (=omotai) is subjective. So if you carry it yourself and feel the weight, you use 重たい (=omotai)
• 身重 (=miomo)

be pregnant

Ex. 彼女は身重で仕事をするのは大変だと言っている。
(=Kanojo wa miomo de shigoto wo suruno wa taihen da to itte iru.)

She said it is hard to work because she is pregnant.

•重なる (=kasanaru)

to go over, to overlap st

•度重なる (=tabi kasanaru)

go over, repeat

Ex.度重なる不幸(=tabi kasanaru fukou)
a succession of misfortunes
•二重 (=ni juu)
double

•重油 (=juuyu)

heavy fuel oil

•重量 (=juuryou)

weight, heft
Ex. 重量超過手荷物 (=juuryou chouka tenimotsu)

excessively heavy luggage
•重要 (=juuyou)

important
<heavy / hefty >
•「どちらのスーツケースが重い/重たいですか?」
(=dochirano suutsu keisu ga omoi /omotai desu ka?)

"Which suitcase is heavier?"
•「この赤ちゃんは重たいね。」
(=Kono akachan wa omotaine.)
"This baby is very heavy, isn't he?"
•重い責任(=omoi sekinin) or 責任が重い(=Sekinin ga omoi.)

heavy responsibility
<serious >
•重い病気 (=omoi byouki)

serious illness

Ex.彼のお父さんは重い病気にかかっているらしい。
(=Kare no otousan wa omoi byouki ni kakatte iru rashii)

They said his father has a serious disease.
• 「重たい/ 重い 話を聞かせてごめんなさい。」
(=Omotai/Omoi hanashi wo kikasete gomennasai.)
"I am sorry to make you listen to my heavy stories."
<Other expressions>

•腰が重い (=koshi ga omoi.)
slow starter, lazy
to be slow to take action

•口が重い(=kuchi ga omoi.)
describes someone who is discreet in their communication, a person who can keep a secret, the opposite of a blabbermouth


Ex. 「彼は口が重いので会話がはずまない。」
(=Kare wa kuchi ga omoi no de kaiwa ga hazumanai.)

He doesn't talk much so we can't have stimulating conversation.
•重い口を開く
(=omoi kuchi wo hiraku.)

to start to talk reluctantly (finally).

Ex. 父はやっと重い口を開いた。
(=Chichi wa yatto omoi kuchi wo hiraita.)

My dad finally broke his silence.
cf. 口が堅い人
(=Kuchi ga katai hito)
a person who can keep a secret, tight-lipped

•「気が重い」(=kiga omoi)

to feel depressed, describing someone with a heavy heart
Ex. 「明日の会議のことを考えると気が重い。」
(=Asu no kaigi no koto wo kangaeru to ki ga omoi.)

Thinking of the meeting tomorrow makes me feel depressed/stressed me out.

<serious/ solemn/grave>
•重々しい (=omoomoshii)
grave, solemn, dignified, grave
Ex. 重々しい雰囲気
(=Omoomoshii fun iki)
serious (solemn ) atmosphere
•重苦しい (=omokurushii)
serious (solemn ), gloomy, oppressive

<important / significant >
•重大 (=juudai)
serious, significant, important, severe

Ex. 今年の重大ニュース
(=Kotoshi no juudai nyuusu)
The most important news of the year
Ex.これは重大な問題です。
(=Kore wa juudaina mondai desu.)
This is a serious problem
:rrrr: Focus!!!(From today's picture!)

彼女は重たい/重い。(=Kanojo wa omotai/omoi.)
She is too serious for me.
We use this adjective, 重い (=omoi) or 重たい(=omotai) negatively to describe a person in a relationship who obsesses over someone, demanding a lot, expecting too much from their relationship, tries to take care of someone too much, or gets jealous excessively. They love someone too much and overwhelm their partner.
•彼女のことが、段々重たく/重くなってきた。
(=Kanojo no koto ga dandan omotaku/omoku natte kita.)

Her love is getting to be a burden to me.
•「君は重いん/重たいん だよ!」
(=Kimi wa omoin/omotain dayo!)

The way you love me is suffocating!

You do too much for me!
You expect too much from me!

You mother me too much!

•重い/ 重たい 女はウザい。
(=Omoi/Omotai onna wa uzai.)
A woman who is too serious about their relationship (or takes too much care of her boyfriend) is annoying.
•彼に、重たい/重い 女と思われたくない。
(=Kare ni omotai/omoi onna to omowaretaku nai.)
I don't want to be his burden. / I don't want him to think I am mothering too much.

•彼の愛が私には重過ぎる/重た過ぎる
(=Kare no ai ga watashi ni wa omosugiru/omota sugiru..)
His love is too much for me. / His love is a burden for me.

From the picture above:
Culture note :

We say「お帰りなさい」(=Okaerinasai) to welcome our family member when they come back home. If you are the one who comes back home, you are supposed to say 「ただいま!」(=Tadaima), which means"I am home! ". (只今(=tadaima) literally means "right now".)
"(I came back) home just now!"→"I am home! "

When we leave home, we say 「行って来ます。」(=Itte kimasu.) or 「行って参ります。」(=Itte mairimasu.) ,←more polite, to your family members who stay home or see you off. Those who see off the family (those who stay at home) say 「行ってらっしゃい!」(=Itte rasshai!) .

マギー先生より (Maggie sensei yori) From Maggie sensei
私ってそんなに重たい女かしら..(=Watashi tte sonnnani omotai onna kashira.) I wonder if I am the type of woman who suffocates her lovers?

確かに最近食べ過ぎかも…(=Tashika ni saikin tabesugi kamo.) Now that I think of it, maybe I have been eating too much lately.

あら、その重いじゃないのね。(=Ara sono omoi ja nai none..) Oh, you don't mean my weight, huh?