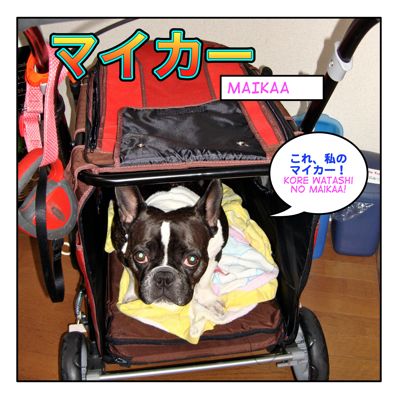 「これ、私のマイカー!」

= Kore watashi no maikaa!

= This is  my "My car"!
There are a lot "Japanese words" that are English in origin and, unfortunately for the English speaking student of Japanese, the meaning of many of them are different from the original English.
So I will focus on one of them today.
It's マイ = mai = my

You might think it just means "my" but it actually means "one's own"and it can be used to mean  yours, his, hers, etc. in Japanese. 

★マイホーム = mai houmu = my home → one's own house/ home

「ああ、僕も早くマイホームを建てたい。」

= Aa boku mo hayaku maihoumu wo tatetai.

= Ah, I want to have my own house soon.
「マギーはマイホーム欲しくないの?」

= Maggie wa maihoumu hoshiku naino?

= You don't want your own house, Maggie?
「(あなたも)マイホームを建てたければ貯金しないと。」

= (Anatamo )Maihoumu wo tatetakereba chokin shinaito!

= If you want to have your own house,  you should save money.
!to right! See, the literal meaning of マイホーム is "my home" but it means one's own house.
★マイカー = maikaa = my car → one's personal car  !CAR!

See the above picture?

Maggie says,

「これ、私のマイカー!」

= Kore watashi no maikaa!

= This is  my "My car"!
So マイカー( = maikaa) means "my car" so it makes sense but you can use it for other people's cars as well.

今日、マイカーで来ましたか?

= Kyou maikaa de kimashitaka?
This doesn't mean
!BUBU! "Did you come by "my car"?" but it means
"Did you come by your (own) car?"

It means, "Do you have your own car?"
Other examples :

Ex. マイカーでの通勤を禁止する。

= Maikaa deno tsuukin wo kinshi suru.

= To prohibit commuting by one's own car.
Ex. マイカーで行く家族旅行

= Maikaa de iku kazokku ryokou.

= A family trip by a car
★マイウェイ = mai wai = my way → your own way

We describe a person who sticks to their own way this way,


ゴーイングマイウェイ

= gooingu mai wai
which comes from "going my way"
Ex. あの人はゴーイングマイウェイだから…

= He/ She/ That person is doing things the way they want to, so…
It means this person has his/her own style and usually doesn't care about cooperating with others.
It could be a bit negative in Japan because Japanese people are said to be group oriented people.
★マイブーム = maibuumu = my boom → your own boom, something you are really into

It got an award for 流行語大賞 = ryuukougo taishou = award for the most popular trend word in 1997 and it has been still used

Its literal meaning is "my boom" which means "your own trend" and it has nothing to do with the real trend in the society.
Ex. Q. あなたのマイブームを教えて下さい。

= Anata no maibuumu wo oshiete kudasai.

= What are you personally into now?
Ex. 私のマイブームは〜です。

= Watashi no maibuum wa ~ desu.

= I am into ~.
It could be a game, singer, food, sweets, pop star anything はまっているもの ( =  hamatte iru mono  ) = you are really into or almost addicted to.
( Check my ハマるLesson)

★マイ箸 = mai hashi → your own portable chopsticks

Anywhere you go,  you can get free 割り箸  ( =  waribashi) disposable wooden chopsticks  in Japan.
Recently, people who are concerned with saving the environment take their own chopsticks with them.

Those are called マイ箸  ( = mai hashi )  my chopsticks → portable chopsticks to take anywhere you go.
★マイカップ = mai kappu = my cup → your own cup
You may have this system in your country as well.  I know they have this system at Starbucks Coffee.
You take your own cup and you get a discount on the drink.
★マイバッグ = mai baggu → your own shopping bag
(We also call this エコバッグ = Eco bag.)

Since many supermarket started to charge for plastic bags (to help the environment) many people have started to carry their own bags.
So as you have seen, people create their words using マイ( = mai) jokingly to describe something personalized or something that you bring yourself.

It doesn't work for something too ordinal like マイブック  ( = mai bukku) my book, マイ時計 ( = mai tokei )  my watch
It should be something more personalized. Or when you bring your own items because you don't want to share or use public thing.
Ex. 「何?"マイスリッパ"持って来たの?」
= Nani? "mai surippa" motte kita no?

= What? Did you bring your own slippers?
You might hear the above when someone brings their own slippers to a public place where there are already slippers for everybody.

Many makers use "my"  to add a more personalized feeling or nuance to something they are selling.
マイカップヌードル  ( =  mai cappu nuudoru )  my Cup noodle = Personalized Cup Noodle
Cup Noodle is a brand but you can actually make your own personalize "brand" of cup noodle by picking the design of a package, ingredient, flavor, etc.
Cell phone companies and internet shopping services also name their consumers' personal accounts with マイ ( =  mai ) as well.
•マイソフトバンク = mai sofuto banku = My Soft bank
•マイドコモ = mai dokomo = My Docomo
•マイ楽天 = Mai rakuten = My Rakuten

マ

ギー先生より = Maggie Sensei yori = From Maggie Sensei
誰か、私のマイカーに乗りたい人いる?

= Dareka watashi no "maikaa" ni noritai hito iru?

= So anybody wants to ride in my "マイカー=My car"?
***
Will you be my Patron? 
I appreciate your support!  サポートありがとう!