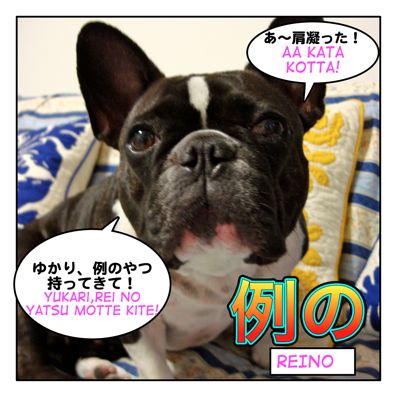 「あ〜肩こった〜!」

= Aa. Kata kottaaa!

= Oh my shoulders are so tight…
「ゆかり、例のやつ持って来て!」

= Yukari,  rei no yatsu motte kite!

= Yukari, bring me "that thing"!
Hi everyone! Are we ready to study today?

First let's look at this kanji!
:u:
例 = tatoe / rei
It means "example".

例えば = tatoeba = for example


例 = rei = examples, Ex.
Now, today's word is 例の = rei no + something / someone
We use it when we refer to a thing or a person without saying its or their name.
It's like the English "thingamajig", "watchamacallit", "you-know-what", "what-his/her/their-name", "the", "it", or "that".
You can also use this to avoid mentioning a name in public — in case you are trying to hide their identity.
Supposedly the listener should understand what the speaker is talking about by just hearing 例の= reino something / someone.
It makes things sounds more mysterious so we sometimes use it intentionally to create an aura of mystery to it.
Ex. 今、例の仕事で忙しいんだ。

= Ima rei no shigoto de isogashiinda.

= I have been busy with "that" work.
Ex.  例の件、どうなった?

= Rei no ken dounatta?

= What happened to  "that" matter (in question)?  (Or "So what happened to the "thing"?)

Ex. 例のことでちょっともめているんです。

= Rei no koto de chotto mometeirun desu.

= I've been having troubles since "you-know-what".
Ex. 例の事件から彼女は外を出歩かなくなった。

= Rei no jiken kara kanojo wa soto wo dearukanaku natta.

= She hasn't gone out since "that" incident.
Ex. ねえ、例のパーティー行く?

= Nee rei no paatii iku? 

= Hey, are you going to "that" party?
Ex.例のあの機能がついています。

= Rei no ano kinou ga tsuite imasu.

= It has "that" function.

(Note: We can tell this machine does something illegal, and they don't want to mention the name of the function.)
Ex. 例の彼が来るから準備して!

= Rei no kare  ga kuru kara junbi shite!

= What's-his-name is coming so be ready!
Ex. 今から例のところに行きます。

= Ima kara rei no tokoro ni ikimasu.

= I am going to you-know-where.
Occasionally we use it when we simply forget about a name.
Ex. 例のあれどうなった?

= Rei no are dounatta?

= What happened to "that" thing?
So what did Maggie sensei want?
:u: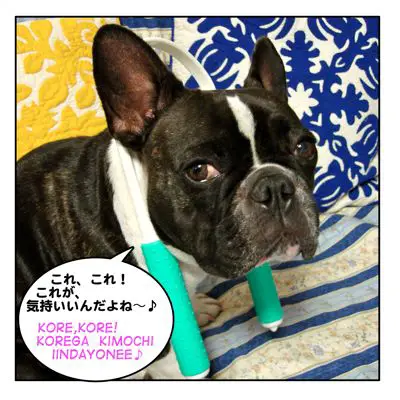 「これ、これ!これが気持いいんだよね~!」

= Korekore! Kore ga kimochi iindaonee!

= This is just thing! It feel soooo good!
Can you tell what  例のやつ =  rei no yatsu = thingamajig is in the picture? It is something like this.

:u: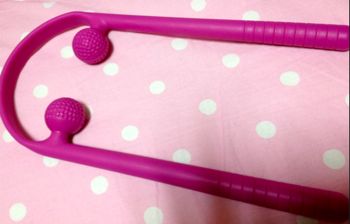 It's a type of neck massager. It works very well.
Japanese people tend to complain about their stiff shoulders = 肩凝り = katakori.
Hope this helps release my tension!

マギー先生より = Maggie Sensei yori = From Maggie Sensei
例のサイトで例の言葉を教えている例の犬は私です。

= Rei no saito de rei no kotoba wo oshieteiru rei no inu wa watashi desu.

=I am that dog who teaches "that" language on "that" site!
***
Will you be my Patron? 
I appreciate your support!  サポートありがとう!