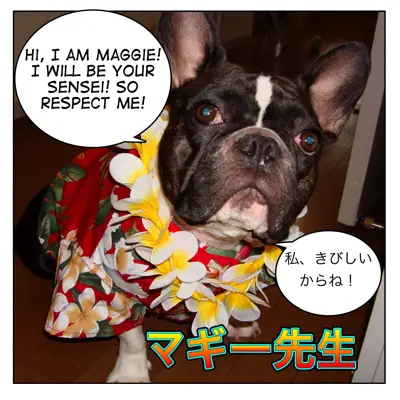 「私、きびしいからね!」 
= Watashi kibishii kara ne!
=  I am strict so be ready, OK?
:n:
Hi I am Maggie-sensei! I will be your teacher. So respect me!
マギー先生です!これからみんなの日本語の先生になります。
 = Maggie-sensei desu. Korekara minna no nihongo no sensei ni narimasu. 

:r:
今日は!マギー先生です! 今日から正式にこの日本語学習のブログを始めます。
 = Konnichiwa! Maggie-sensei desu! Kyou kara seishiki ni kono nihongo gakushuu no burogu wo hajimemasu.
= Hello! I am Maggie-Sensei. I will officially start this Japanese learning blog today.
既にいくつかのサンプルレッスンをアップしています。
= Sudeni ikutsuka no sanpuru ressun wo appu shite imasu.
= I have already posted several sample lessons.
皆さんのレベルがわからないからレッスンによっては簡単過ぎたり難し過ぎるかもしれません。
= Minasan no reberu ga wakaranai kara ressun ni yotte wa kantan sugitari muzukashi sugiru kamo shiremasen.
= Since I don't know your level, some of the lessons could be too easy or difficult.
がんばってレッスンを作っていくので感想を聞かせてね! 

= Ganbatte  yoi ressun wo tsukutte iku node kannsou wo kikasetene.
= Please give me feed back so that I can make more useful lessons for you.