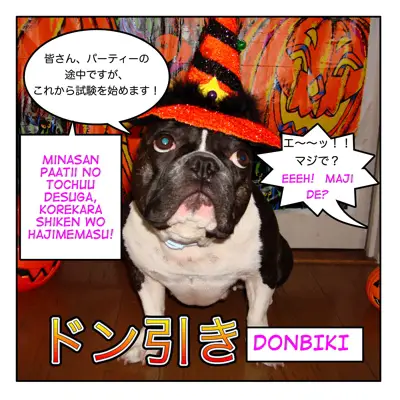 「皆さん、パーティーの途中ですが、これから試験を始めます。」
(=Minasan, paatii no tochuu desuga korekara shiken wo hajimemasu!)

"OK, everyone! I know we're in the middle of a party (and we're all having fun) but I am going to give you an exam now!"

「エ〜〜ッ!!マジで?」
(=Eeeh! Maji de?)
"What? Are you serious?"
Today we will learn a Japanese slang 「どん引き」(or ドン引き)(=donbiki)
This is another one of those hard-to-translate-exactly words. Roughly, it means, "turned-off"
The verb form is 「どん引きする。」(=donbiki suru) "to be turned off" ,"to have a chill cast over, "to be scared off.""to get creeped out")
When someone says or does something extremely awkward or strange or makes a very bad joke, people around them don't know how to react. They're in a kind of state of shock. That kind of reaction (even if it's non-verbal) is called 「どん引き」 (=donbiki)
For example:
If a freshman at work gets really drunk and says something incredibly tactless or inappropriate to a higher up in front of everyone at a party,

「部長って恐く見えるけれども、たまに赤ちゃん言葉使っているって秘書の加藤さんが言っていましたけど本当っすか?」
(=Buchou tte kowaku mieru keredomo tamani akachan kotoba wo tsukatte irutte hisho no Kato san ga itte imashita kedo hontoussuka?)
"(To the division head) Sir, You seems to be scary but your secretary Ms. Kato told me that you sometimes use baby talk, is it true?"
→At that moment, 周りにいる人は皆どん引きする。(=Mawari ni iru hito wa mina donbiki suru.)
Everyone around them got paralyzed by his words. (They get very upset and don't know what to do.)
A guy tries to get all the attention at 合コン (=Goukon) ,a matchmaking party, he sings a karaoke version of "My Way" with just a bit too much ….feeling for everyone's comfort,

→彼は皆にドン引きされていた。(=Kare wa mina ni donbiki sarete ita.)
He turned everyone off.

It is an emphatic form of

引く(or ヒク、ひく) (=hiku) : The literal meaning is "to pull"

Ex. 「これ言うと引いちゃうかもしれないけれども彼、15歳までお母さんとお風呂に入っていたんだって!」
(=Kore iu to hiichau kamo shirenaikeredomo kare juugosai made okaasan to ofuro ni haitte itandatte.)
"You might be turned off by hearing this but I heard he used to take a bath with his mother until he was 15."
「もうドン引き!」
(=Mou donbiki!)
"Yeah! It really turned me off!"
「本当に引くよね。」
(=Hontou ni hikuyone.)
"That really turned me off!"
「どん」(=don) adds the meaning of "really" to a word. Conversationally it is "really", but it feels a bit like "Bam!" or "Boom!" in English.

•「皆、引いていた。」
(=Mina hiite ita.)
Everybody got turned off.
(stronger)
「皆、どん引きしていた。」
(=Mina donbiki shiteita.)

•「皆にかなり引かれちゃった。」
(=Minani kanari hikare chatta.)
(I) turned off everyone.
(stronger)
「皆にどん引きされちゃった。」
(=Mina ni donbiki sarechatta.)

•「私、引いちゃった。
(=Watashi hiichatta)
I was turned off.

(stronger)
「私、どん引きしちゃった。」
(=Watashi donbiki shichatta.)
This word originally comes from comedians' jargon to describe the audience who don't even crack a
smile at jokes.
This slang expression gained popularity and now everybody uses it.
Actually there are tons of slang expressions that originally came from お笑い(=owarai), (Japanese)
comedians or comedies. Check  「笑う(warau) 」lesson!

<Related expressions>

•When someone makes a poor joke, we say,

「寒い!」(=Samui) or 「さっむ〜」(=Sammuuu) (The literal meaning of 寒い samui is cold)

寒いジョーク(=samui jouku) = bad joke
(I don't hear this expression as much as before, though.)
「その寒いギャグ、まじ引く!」
(=Sono samui gyagu maji hiku!)
"That bad gag (joke) really turned me off."
• When someone says an inappropriate joke or spoils the good atomosphere, we will be
白ける(=shirakeru) to become chilled
座(or 場)が白ける
(=za(or ba) ga shirakeru)
the mood or pleasure of the place or people around you get spoiled.

彼の下手なジョークで場が白けてしまった。
(=kare no heta na jouku de ba ga shirakete shimatta.)

His bad jokes spoil the mood of that place.
座を白けさす (=za wo shirakesasu) to spoil the mood

長いスピーチは座を白けさす。
(=Nagai supiichi wa ba wo shirakesasu.)
Long speeches spoil the mood.

Note : People who usually turn off people are called, KY (=kei wai).
K means 空気 (=kuuki) the mood or atmosphere, including the feelings of people around you
Y means 読めない (=yomenai), can't read

KY (=kei wai) means those who can't read between the lines, can't sense what is happening around you or other people's feelings. In short, people who are clueless as to how to act in certain situations.
Let's go back to the picture above! Everybody is having a lot of fun at a Halloween party. But out of the blue, Maggie-sensei says she is going to give them an exam in the middle of the party.
「皆さん、パーティーの途中ですが、これから試験を始めます。」
(=Minasan, paatii no tochuu desuga korekara shiken wo hajimemasu!)

"OK, everyone! I know we're in the middle of a party (and we're all having fun) but I am going to give you an exam now!"
*皆さん (=minasan) everyone
*パーティー (=paatii) party
*〜の途中 (=tochuu) in the middle of
*です (=desu) "be" verb
*が (=ga) but
*これから(=korekara) from now
*試験 (=shiken) exam, test
*を (=wo) particle for object
*始めます (=hajimemasu) to start
All her students get どん引き (=donbiki) because it is not appropriate at all and spoiled the party.

Yeah, what a turn-off! Huh? So they say,
「エ〜〜ッ!!マジで?」
(=Eeeh! Maji de?)
"What? Are you serious?"
マジ で? (=maji de?) : slang (very casual) : "Are you sure?" "No kidding!" "Are you serious?"
(We can just say 「マジ?」(=maji?))
You'd better not use this with your your teachers.

 マギー先生より (=Magi-sennsei yori) From Maggie-sensei
皆がどんなにドン引きしても試験をしますからね。
(=Minna ga donnani donbiki shitemo shiken wo shimasu karane.)
No matter how much you got turned-off, I'm giving you the test anyway!)
皆さんはどんな時にドン引きした?(=Minmasan wa donnna toki ni donbiki shita?)
Everyone, tell me what situations make you feel DONBIKI?