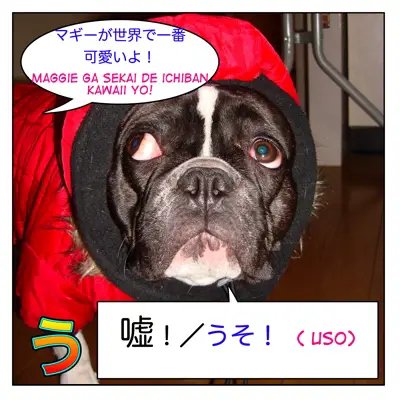 「マギーが世界で一番可愛いよ!」
Maggie ga sekai de ichiban kawaiiyo!
Maggie is the cutest in the world!
「嘘! 」
Uso!
Liar! / No way! / You must be kidding!

Today's word is 嘘 = Uso.
It means "lie".
verb : 嘘をつく uso wo tsuku. =to lie
Ex. 私に嘘をつかないで(+下さい。)
Watashi ni uso wo tsukanai de (+kudasai).
(kudasai : more formal, watashi ni = to me.)
= Don't lie to me!
a liar = 嘘つき usotsuki
Ex. 彼は嘘つきだ。/です。
Kare wa usotsuki da./ desu. ("desu" is more formal than "da" )
=He is a liar!
Japanese often use "Uso!" when they are surprised, like "Really?" "Are you sure?" "No kidding!" No way!" or when they hear something unbelievable or unexpected.

Ex. 「マギーがミスユニバースで優勝したよ!」
Maggie ga misu yunibaasu de yuushou shitayo.
=Maggie won the "Miss Universe" contest!
(優勝する= yuushou suru : to win 優勝した=yuushou shita. past tense.)

「うっそ〜!」
= " Ussoo"
="No way!"
(うっそ〜= " Ussoo" is more colloquial.)
 (Note : 「ありえない!」arienai (it can't be true!) can be used in this situation!)
They often combine Uso and Hontou (=本当 the truth)
Ex.
A : 「昨日、街でマギーの彼に会ったよ!」
Kinou machi de Maggie no kare ni atta yo.
I saw  Your (Maggie's) boyfriend on the street yesterday.
B : 「えっ?うそ!本当?」
Eh? Uso? Honto(u)?
No way, really?
As you can see "うそ!"="uso!" is used very casually in daily conversation and doesn't always mean "lie".
( Note : 本当? hontou? Really? could be replaced by "マジ(で)?" Maji(de)? "Are you serious?" in colloquial Japanese.)

Ex.
A : 「 明日雨だって!」
"Ashita ame datte!"
(They said / I heard it would rain tomorrow.)
B: 「うそ~! 」
"Usoo!"
(No,kidding! / I didn't expect it would rain tomorrow.)
Added Sound file for the above phrases.

 From Maggie :
でも、本当は私は自分のことを世界で一番可愛いと信じています。 ;-)
Demo hontou wa watashi wa jibun no koto wo sekai de ichiban kawaii to shinjite imasu.
But the truth is that I do believe I'm the cutest girl in the world!