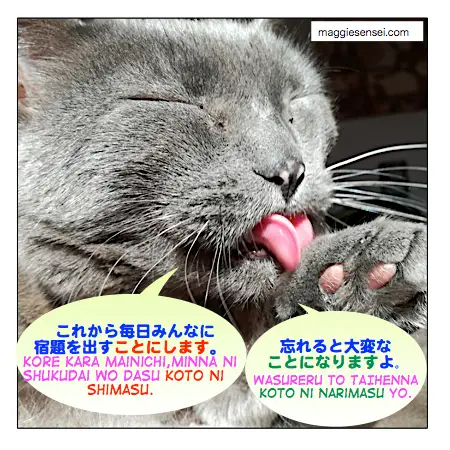 Kitty「これから毎日、みんなに宿題を出すことにします。」
= Kore kara mainichi, minna ni shukudai wo dasu koto ni shimasu.
= I am going to give you homework every day from now on.
「忘れると大変なことになりますよ。」
= Wasureru to taihen na koto ni narimasu yo.
= If you forget, you will be in a big trouble, OK?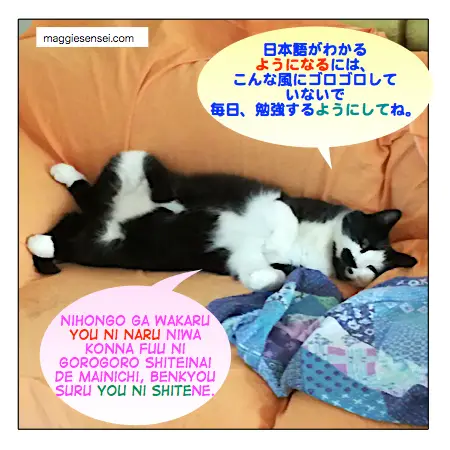 Nero「日本語がわかるようになるには、こんな風にゴロゴロしていないで毎日、勉強するようにしてね。」
= Nihongo ga wakaru you ni naru niwa, konna fuu ni gorogoro shite inai de mainichi, benkyou suru you ni shite ne.
= In order to be able to understand Japanese, don't just lie around being lazy like this every day. Try and study.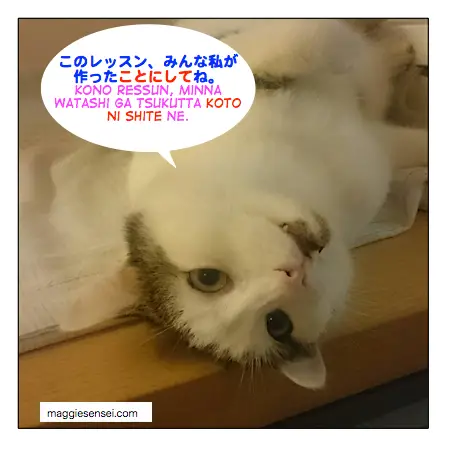 Smaug「このレッスン、みんな私が作ったことにしてね。」
= Kono ressun, minna watashi ga tsukutta koto ni shite ne.
= Let's say I made this entire lesson.