Thank you for supporting us!!!
It has been a great pleasure for me to make lessons for you.
Please support us so that we can maintain this site. 
We have Patreon page. 
We would appreciate any kind of help. 
You can access tons of special lessons there.
ありがとうx2($ 2.00/month)
Lots of Mini lessons, special vocabulary sheets, Early access to all my lessons and audio files for my main lessons. ( from 2018) 
Updates: I added two new tiers in June 2020.
ありがとうx5($ 5.00/month)
In addition to the previous benefit, I post an exclusive Japanese lesson (Daily Life Japanese, Street Japanese with an audio file) and help you dictate any Japanese YouTube video (up 30 seconds/month)
ありがとうx10($ 10.00/month)
In addition to the previous benefit, I will make a special Monthly Tweets PDF files.
I have been tweeting mini lessons (kanji, slang, verbs, vocabulary, grammar tips,etc.)  almost every day on Twitter. I will compile all of them and make a PDF file. (Average 10 ~17 pages/month) 
Also I will check your writing (5~6 lines/month)
See the details
ありがとう!! !
For one time support,
Click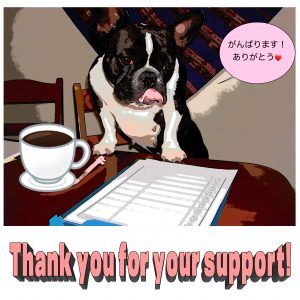 Any support will be greatly appreciated.  ありがとう!🙏
*********
We really appreciate your continuous support.
ありがとう!!
保存
保存
保存