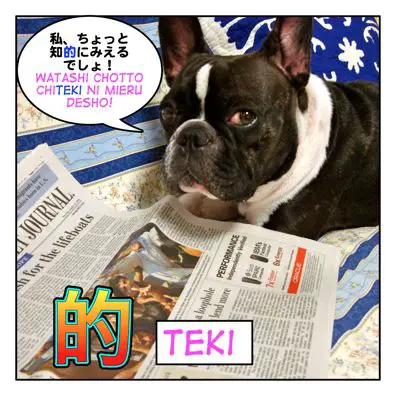 「私、ちょっと知的にみえるでしょ!」

= Watashi chotto chiteki ni mieru desho!

= I look a bit intelligent, right?
Today's word is 的=teki=~tic, ~al, ~ine, ~able, ~ive, like~, ~ wise
We add this suffix to a noun to make an adjective that describes a characteristic.
Noun +  的 ( = teki)→

+  的 ( = teki)+ auxiliary verb だ( = da) or です  ( = desu) : to be ~


Adjective : 〜的な (  = teki na)


Adverb : 〜的に ( = teki ni)
:u:

Ex. 開放 = kaihou =openness

開放的 = kaihouteki =open, open-minded

開放的だ = kaihouteki da or 開放的です= kaihouteki desu = to be open, to be open-minded


adjective 開放的な = kaihouteki na = open-minded

adverb 開放的に = kaihouteki ni = open-mindly, openly

From the pic.


•知的 = chiteki = intelligent

Ex. 彼は知的な人だ。
= Kare wa chitekina hito da.

= He is intelligent.
You can't just add this suffix to any noun. It only works with certain nouns.

Here is a list for some of the words that will take 的 = teki.
:u:

•積極的 = sekkyokuteki = positive, vigorous, aggressive, assertive, pushy, active, enthusiastic. 
Ex. 彼女、積極的だね。
=Kanojo sekkyokuteki dane.

=She is aggressive*, isn't she?
(*Translation changes, assertive, active, pushy, etc. depending on the context.)

•消極的 = shoukyokuteki  = passive
Ex. あまり消極的だと友達ができないよ。

= Amari shoukyokuteki dato tomodachi ga dekinai yo!
= If you are too passive, you won't be able to make any friends.

•攻撃的 = kougekiteki is used for more aggressive character.
•感情的 = kanjouteki = emotional
Ex. ここは感情的にならないで冷静に話し合おう。
= Koko wa kanjouteki ni naranai de reisei ni hanashiaou.
= Let's not get too emotional and talk about it calmly.
•現実的 = genjitsuteki = realistic
Ex. ここは現実的に考えてみましょう。
= Kokowa genjitsuteki ni kangaete mimashou.

=Let's be realistic here.

•非現実的 =higenjitsuteki =unrealistic

•行動的 = koudouteki = active
Ex. 行動的な人ほど、運が切り開ける。

= Koudoutekina hito hodo un ga kirihirakeru.

= Active people make their luck.
•具体的 = gutaiteki = concrete, practical
Ex. もっと具体的なアイディアを出して下さい。

= Motto gutaitekina aidea wo dashite kudasai.

= Please give me more specific ideas.
•抽象的 = chuushouteki = abstract
Ex. 彼の言うことはいつも抽象的だ。
=Kare no iu koto wa itsumo chuushouteki da.
=What he says is always abstract.
•一般的= ippanteki = general
Ex. この言葉はあまり一般的ではない。
= Kono kotoba wa amari ippanteki dewa nai.
= This word is not that common.
•実践的 = jissenteki = practical
Ex. この仕事には、実践的な経験が必要だ。
=Kono shigoto niwa jissenteki na keiken ga hitsuyou da.

= You need practical experiences for this job.

•論理的 =ronritkei =logical
Ex. 論理的に言うと…
=Ronriteki ni iu to…
=Logically speaking…

•否定的= hiteiteki = negative
Ex. 彼は私の意見にいつも否定的だ。

= Kare wa watashi no iken ni itsumo hiteiteki da.

= He is always against my opinions.
•技術的= gijyutsuteki =technical
Ex. 技術的なことはわからない。

= Gijutsuteki na koto wa wakaranai.

=I don't know anything about technical things.
•美的 = biteki=aesthetic
Ex. 彼女には美的感覚が全くない。

= Kanojo niwa biteki kankaku ga mattaku nai.

= She has no sense of beauty.

•定期的 = teikiteki = periodical
Ex. 定期的に会議を開く。

=Teikiteki ni kaigi wo hiraku

= To have periodical meetings.
•科学的 = kagakuteki = scientific
Ex. 科学的な根拠は何もない。

=Kagakuteki na konkyo wa nani mo nai.

=There is no scientific proof.
•心理的 = shinriteki = psychological

Ex. この事件が及ぼす子供たちへの心理的な影響が心配だ。

= Kono jiken ga oyobosu kodomotachi heno shinriteki na eikyou ga shinpai da.

= I am worried this incident would have a psychological impact on children.

•経済的 = keizaiteki =economical

Ex. 経済的(な)理由で旅行に行くのを断念した。
= Keizaiteki(na) riyuu de ryokou ni iku no wo dannen shita.
=For economical reason, I gave up on my trip.
•金銭的=kinsenteki = financial

Ex. 金銭的に苦しい
=Kinsenteki ni kurushii
=It is hard financially.

•理想的 = risouteki = ideal
Ex. 理想的な家庭を築く
=Risoutekina katei wo kizuku
=To make  an ideal family.

•私的 =shiteki = personal
•客観的 = kyakkanteki = objectively
•主観的 = shukanteki = subjectively
•文化的 = bunkateki= cultural
•芸術的 =geijutsuteki = artful, artistic
•友好的 =yuukouteki = friendly
•生産的 =seisanteki = productive
•科学的 =kagakuteki = scientific

Ex. 私的感情はまじえず客観的に対処して下さい。

= Shiteki kanjou wa majiezu kyakkanteki ni taisho shite kudasai.

= Please deal with it objectively without mixing your personal emotion.
•日本的*= nihonteki = Japanese, something typical or representative
Ex. 海外へのお土産には何か日本的なものを持っていった方がいいです。
= Kaigai eno omiyage niwa nanika nihontekina mono wo motte itta hou ga ii desu.

=You should take some typical Japanese souvenir to abroad.
(*We also say 和的=wateki for Japanese style)

(Conversational)

• 「マギー的にはどう思うの?」

= Maggieteki niwa dou omou no?
= So what do you think as Maggie?

「そうね、私的には別に悪くないと思うの。」

= Soune, watashiteki niwa betsu ni waruku nai to omou no.

=Let see.. In my personal opinion, I don't think this is such bad idea..
Can you recognize all the words with 的 (= teki) ?

 マギー先生より= Maggie Sensei yori = From Maggie Sensei
他にも的を使った言葉が一杯ありますよ。探してみてね。
=Hoka ni mo teki wo tsukatta kotoba ga ippai arimasu yo. Sagashite mitene.
=There are a lot more. Try to find them!
何?マギー先生は「魅力的」ですって? :)
=Nani? Maggie Sensei wa miryokuteki desutte?
=What? MaggieSensei is attractive?

***
Will you be my Patron? 
I appreciate your support!  サポートありがとう!