Daily Japanese lesson!
Please go to the Index to see the list of all the words!
From the Lesson #124:
I have been  adding new Mini Lessons in the main lesson section. Go find them with category bar,"Mini Lesson"

**********************************************************************

自己中=jikochuu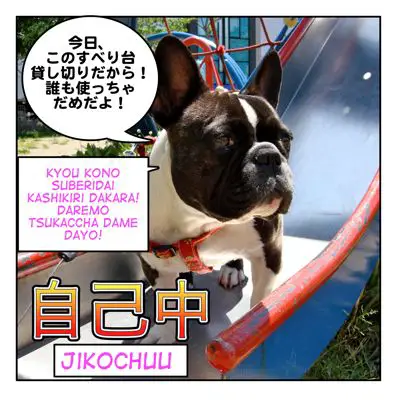 Picture 43 of 122
Today's colloquial word is,

自己中=jikochuu

It is an abbreviation of 自己中心的=jiko chuushinnteki

Its' literal translation is "self-centered" but we use 自己中,jikochuu, negatively when we describe someone who only thinks about themselves selfishly or egoistically.

Ex. 彼は自己中だ。
=Kare wa jikochuu da.
=He is selfish.

From the pic.
今日、このすべり台、貸し切りだから!
=Kyou kono suberidai kashikiri dakara!
=I'm going to hog (monopolize) this slide today.
誰も使っちゃだめだよ!
=Dare mo tsukaccha dame dayo!
=Nobody can't use this, OK?

Note : 貸し切り(=kashikiri) To rent out the space or charter the transportation.

Ex. 貸し切りバス=kashikiri basu = chartered bus

We also say 貸し切り=kashikiri when we get to use some space to ourselves. For example when we are the only customers in a restaurant and etc.
貸し切り状態だね。 / 貸し切りみたいだね。
=kashikiri joutai dane./kashikiri mitai dane.
=We have this place all to ourselves./We can use this place just for us!