Daily Japanese lesson!
Please go to the Index to see the list of all the words!
From the Lesson #124:
I have been  adding new Mini Lessons in the main lesson section. Go find them with category bar,"Mini Lesson"

**********************************************************************

うく=uku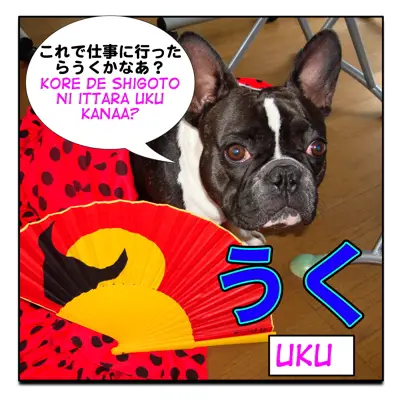 Picture 44 of 122
Today's colloquial word is:
浮く=うく=uku
浮く =uku means "to float" But today I will teach you a different meaning.
We use this word when we describe someone (or something) who stands out from the others around them because they don't blend in or fit in the mood or incongruous to the occasion. For example, if you wear inappropriate clothes to a certain place or occasion, you will stand out.
For example, if you wear something inappropriate to a certain occasion, you will be very different from other people and you will
→浮く=うく=uku.
→浮いちゃう=ういちゃう=uichau (casual)

Ex. 寒いジョークを言ったら一人浮いてしまった。
=Samui jouku wo ittara hitori uite shimatta.
=My bad joke spoiled the mood.

Ex. 彼は、なんか皆からういてる。
=Kare wa nanka mina kara uiteiru.
=He doesn't fit in with all his friends somehow.

From the pic.
これで仕事に行ったらうくかなあ?
=Kore de shigoto ni ittara uku kanaa? =Would I stand out if I go to work like this?