Daily Japanese lesson!
Please go to the Index to see the list of all the words!
From the Lesson #124:
I have been  adding new Mini Lessons in the main lesson section. Go find them with category bar,"Mini Lesson"

**********************************************************************

雨女=ame onna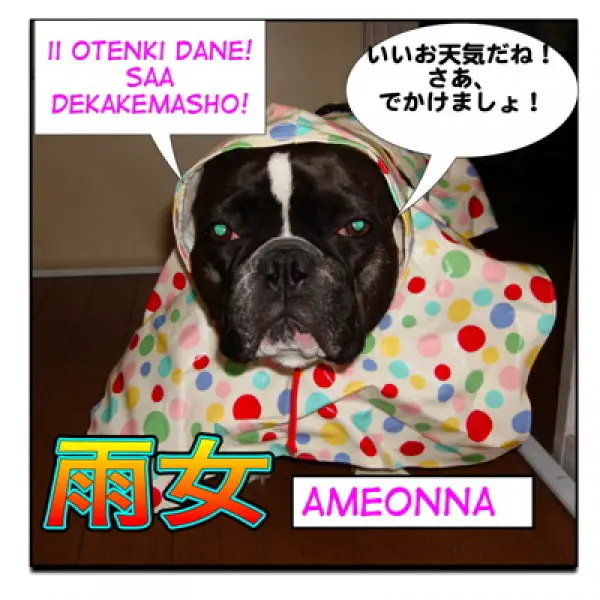 Picture 64 of 122
Hi minasan!!! I just came back to Japan.
So..また日本語一緒に勉強しようね!
=Mata nihongo issho ni benkyou shiyoune!
=Let's study Japanese again with me!

Today's fun word is,
*雨女=ameonna "a rain woman""A rain-bringer"(female)
*雨男 =ameotoko "a rain man" "A rain-bringer" (male)
A person whose presence tends to bring rain wherever he/she goes (usually for some special events, such as traveling, camping, excursion, ceremonies, outside events and etc.)

Ex.「明日は、旅行だけどマギーは雨女だから雨かもね。」
=Asu wa ryokou dakedo Maggie wa ameona dakara ame kamone.
=We will go traveling but since Maggie always brings rain, it might rain.
Ex.「誰か雨男か雨女がいるんじゃない?天気が悪くなってきたよ。」
=Dare ka ameotoko ka ameonnna ga irunjanai? Tenki ga waruku natte kitayo.
=Who is a rain-bringer? It is getting a bad weather.

We also says
*晴れ男=hare otoko=Sun-bringer (male)
*晴れ女 =hare onnna=Sun-bringer (female)
a person who brings nice weather wherever they go.

Ex.「明日の旅行にいくんだけど雨かなあ。」
=Asu no ryokou ni ikun dakedo ame kanaa...
=We will go traveling tomorrow but I wonder if it is going to rain..
「大丈夫!私、晴れ女だから!」
=Daijyoubu watashi hareonna dakara!
=Don't worry! I always bring good weather wherever I go.
*************************
From the pic.
「いいお天気だね!さあ、でかけましょ!」
=Ii otenki dane! Saa dekakemasho!
=Nice weather! Shall we go out now?
*************************
From Maggie-sensei,
雨男/女?(=Ameotokor/onna) 晴れ男/晴れ女?(=Hare otoko/onna)?
みんなは、どっち?(=Minna wa docchi?)
Which one are you?