Daily Japanese lesson!
Please go to the Index to see the list of all the words!
From the Lesson #124:
I have been  adding new Mini Lessons in the main lesson section. Go find them with category bar,"Mini Lesson"

**********************************************************************

常用漢字=jouyou kanji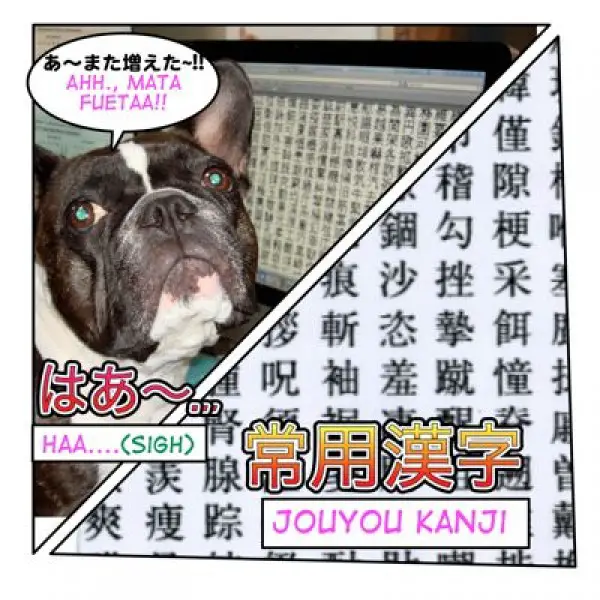 Picture 66 of 122
Today I will talk about 常用漢字=jouyou kanji

常用漢字=jouyou kanji

→常用=jouyou= daily use, common-use
→漢字=kanji

We were supposed to know 1945 kanji when we complete secondary schools. The Japanese government has just proposed that they would delete 5 characters and add 196 more. So in total we have to learn 2,136 kanji in total.
Here is the related link! 新常用漢字=shin jouyou kanji
So officially you have to know 2,136 kanji to be considered "literate". Don't worry if kanji intimidates you at first, though. If it makes you feel any better, it gives many school teachers like myself more pressure to teach more in a limited amount of time. And the good news is you don't need to be able to write all of them. These days, thanks to computers, we write kanji by paw (hand in your case) less and less everyday. When we were little, we were forced to learn lots of kanji, and we had to take quizzes every week at school. But if you learn a few kanji at a time, it's really not that big a deal. And if you happen to like to read -- books, magazines, the back of dog food packages, manga, whatever -- you can learn how to read kanji naturally. I would say just have fun learning them. But little by little! *******************************

Today, I will just teach you one of the kanji that they just added to 常用漢字=jouyoukanji

諦
Looks familiar?
↓
諦める =akirameru= to give up!
From Maggie sensei

諦めないで漢字を勉強してね。
Akiramenai de kanji wo benkyou shitene!
Don't give up and keep learning kanji!

From the pic.
あ~また増えた!
Aa mata fueta!
Gosh, they increased them again!