Daily Japanese lesson!
Please go to the Index to see the list of all the words!
From the Lesson #124:
I have been  adding new Mini Lessons in the main lesson section. Go find them with category bar,"Mini Lesson"

**********************************************************************

お取り寄せ=otoriyose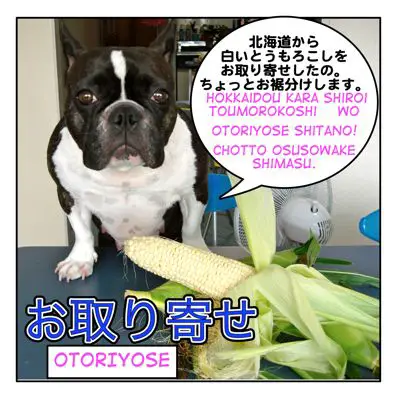 Picture 4 of 122
From the pic.
「北海道から白いとうもろこし取り寄せたの。」
=Hokkaidou kara shiroi toumorokoshi wo toriyoseta no.
=I ordered white sweet corns from Hokkaido.

「ちょっとお裾分けします。」
=Chotto osusowake shimasu.
=I will like to share them with you.

*お裾分け=osusowake=to share something with someone

*********************************
Have you ever had white sweet corns? They are relatively new in Japan.
Some of them are called,

ピュアホワイト

=pyua howaito,

pure white

, and they are becoming very popular because they are very sweet.
They are still rare in Japan. Many people order them from

北海道

=Hokkaido, in the north part of Japan ahead of time. I ordered them from Hokkaido for the first time this year. How did they taste?

甘くて美味しかった!

=Amakute oishikatta!

They were sweet and delicious!
So today's key word is,



お取り寄せ


=otoriyose
This comes from the verb


取り寄せる
=tori yoseru
The original meaning of

取り寄せる

=toriyoseru is,
1)

to put something on backorder
For example, if you go to the store and they don't have your size, they would say,
「只今、商品がないのでお取り寄せになります。」
=Tadaima shouhin ga nai node otoriyose ni narimasu.
=

I'm sorry, but we're out of stock so we have to order it/them for you (from the maker.)
Now I would like to teach you the second meaning today.
2)

to mail-order something, to order something on the internet, , to send up for



You may know a word,

注文する

=chuumon suru=

to order
注文する

=chuumon suru=to place an order
You can use it for mail order and also you can use it when you order something at a restaurant, fast food store, etc.


コーヒーを注文する

=Koohii wo chuumon suru
=

to order a coffee
We do not say



コーヒーを取り寄せる


=koohii wo toriyoseru
at a restaurant or a coffee shop.
But if you find a special coffee on the internet or in a catalog, and order it, you would say,
コーヒーを取り寄せる


=Koohii wo toriyoseru
=

to mail order coffee
Now let's go back and look at the noun form,

お取り寄せ

=otoriyose.
Women often put

お

=o in front of

取り寄せ

=toriyose to be polite even if they are referring to their own actions.
(In order to appear humble we usually avoid using honorific expressions to refer to ourselves but this is one of those rare exceptions.)
Its verb form is

お取り寄せする

=otoriyose suru
Ex.

「これお取り寄せした

の。
」
=Kore otoriyose shitano.
=

I mail ordered this.
Ex.
「ちょっとお取り寄せしたからどうぞ!」
=chotto otoriyose shitakara douzo!
=

Here you are! I got them by mailorder.
Ex.
「これお取り寄せですか?」
=Kore otoriyose desuka?
=

Did you get this/these by mail order?
Usually we use

お取り寄せ

=otoriyose or

お取り寄せする

=otoriyose suru mainly for food, such as sweets, vegetables, meat, and seafood. It is mostly used by women in conversation
If you order a book, even women don't say

お取り寄せ

=otoriyose
Ex.

アマゾンで本を取り寄せる/注文する
=Amazon de hon wo toriyoseru/chuumon suru
=

to order a book on Amazon.
However, if you google and type this word, you will be surprised to see all the sites with this title.
In the mainstream shopping site in Japan, called

楽天

=rakuten, they always shows the ranking for
•お取り寄せグルメ商品


=otoriyose gurume shouhin
=

mail order gourmet products
•お取り寄せスイーツ


=otoriyose suiitsu
=

mail order sweets
**********************
Many Japanese women including myself looove

お取り寄せ

=otoriyose!
How about you?
何かお取り寄せしたことある?


=Nanika otoriyose shita koto aru?
=

Have you ever mail order some food?