Daily Japanese lesson!
Please go to the Index to see the list of all the words!
From the Lesson #124:
I have been  adding new Mini Lessons in the main lesson section. Go find them with category bar,"Mini Lesson"

**********************************************************************

育てる=sodateru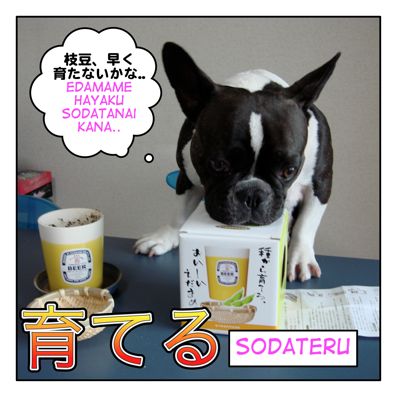 Picture 7 of 122
Today's verb is 育てる=sodateru

It means to grow or raise,bring up,develop, nurture, build up,cultivate
The objects can be people, animals, plants, entities, relationship, skill and etc.

Ex. 子供を育てる
=Kodomo wo sodateru
=to raise a child

Ex.木を育てる
=Kiwo sodateru
=to grow/farm trees

Ex. A国とよい関係を育てる
=A koku to yoi kankei wo sodateru.
=to foster / build up a good relationship with Country A

Ex.スタッフを育てる
=to educate (train) staff

育てる=sodateru is an transitive verb.

→~を育てる=(object) wo sodateru

Ex.マギーは枝豆を育てている。
=Maggie wa edamame wo sodatete iru.
=Maggie is growing green soybeans.

育つ=sodatsu is a intransitive verb.

Ex.植物がぐんぐん育っている。
=Shokubutsu ga gungun sodatte iru.
=The plants are growing fast.

Ex.彼はよい家庭で育った。
=Kare wa yoi katei de sodatta.
=He grew up in a nice family.

Ex. ポケモンを見て育つ
=Pokemon wo mite sodatsu.
=to grow up on Pokemon

noun : 育ち=sodachi

Ex. 彼は育ちがいい
=Kare wa sodachi ga ii
=He is well-bred

From the pic.

「枝豆早く育たないかな...」
=Edamame hayaku sodatanai kana..
=I hope tthe edamame grows fast.

Have you ever had 枝豆=erdamame?
They are green soybeans in the pod and we boil them with a little bit of salt and eat them with beer in summer. They are so tasty and healthy.

OK, beer time! さあ、ビールの時間です!=Saa biiru no jikan desu!