Daily Japanese lesson!
Please go to the Index to see the list of all the words!
From the Lesson #124:
I have been  adding new Mini Lessons in the main lesson section. Go find them with category bar,"Mini Lesson"

**********************************************************************

食っちゃ寝=kucchane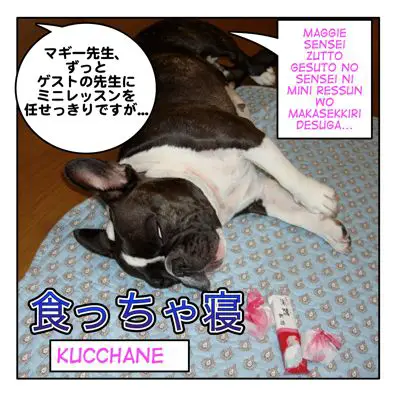 Picture 8 of 122

From the pic.

マギー先生、ずっとゲストの先生にミニレッスンを任せっきりですが..
=Maggie Sensei zutto gesuto no sensei ni mini ressun wo makasekkiri desuga...

=Maggie Sensei, you have been leaving Mini lessons to guest teachers for a long time...

*ずっと=zutto=for a long time, for a while
*任せる=makaseru=to leave it to someone
*任せっきりにする
=makasekkiri ni suru=To keep leaving something (everything) on someone's shoulders (to keep leaving something entirely up to someone)
*************************************************
Hi, everyone! Long time no see!
I have been extremely busy. What? Where did this picture come from??
Oh well, today's word is



食っちゃ寝

=kucchane
=

eating and sleeping
We use this word to describe the lazy life which consists of basically just sleeping and eating.
Ex.

夏休みは食っちゃ寝の生活をしていた。
=Natsuyasumi ha zutto kucchane no seikatu wo shiteita.
=
All I did during the summer vacation was eat and sleep.
We often repeat this,
Ex.

マギーはずっと食っちゃ寝、食っちゃ寝してる。
=Maggi wa zutto kucchane kucchane shiteta.
=

All Maggie has been doing is eating and sleeping, eating and sleeping.
Other words to describe one's lazy life,
Spend the time not doing anything efficient or being lazy
*

ぐうたらする


=guutara suru
=

to be lazy
*

だらだら過ごす


=daradara sugosu
=

to spend the time sluggishly
*

上げ膳据え膳


=agezen suezen
=

Someone cooks, serves food, and cleans up after you all the time and you don't have to do anything




膳
=zen=

meal
Ex. 旅館に行くと上げ膳、据え膳だ。
=Ryokan ni iku to agezen suezen da.
=You don't have to do anything at a Japanese inn. (They do everything for you, serving food, cleaning the dishes, etc.)
******************************************



From Maggie Sensei
この夏休み、食っちゃ寝してた人!


=Kono natsuyasumi kucchane shiteta hito!
=

Who spent the time just eating and sleeping this summer vacation?