Daily Japanese lesson!
Please go to the Index to see the list of all the words!
From the Lesson #124:
I have been  adding new Mini Lessons in the main lesson section. Go find them with category bar,"Mini Lesson"

**********************************************************************

御の字=onnoji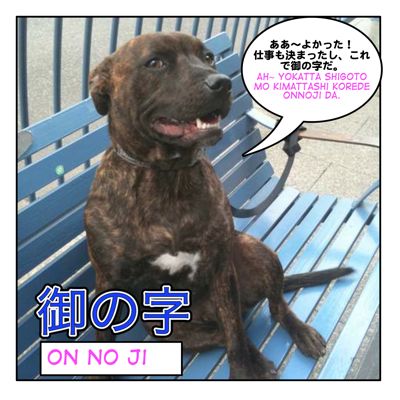 Picture 14 of 122
Hello, everyone! How are you doing? We received a question from my lovely blog-student, Tiffany!

Q : "When do you use ご? When do you use お? They really mean the same things... right?"

Yes, Tiffany is talking about the honorific prefixes that we add to the front of words to make them more polite.

So her doggie, Dudley-Sensei will answer her question today.

There is a lesson about keigo,敬語, which includes the kanji 御 in this blog : 敬語(=keigo) lesson.

The kanji 御 can be read

*ご=go
or
*お=o

Also it can be read
*ぎょ=gyo
*おん=on
*み=mi

but today we focus on お or ご


And yes, they all are all used for the same reason -- to convey a feeling of respect.

When we use 御

1 ) When we refer someone's actions or to something that belongs to others, we use 御 to show the respect. While this is generally used when talking to or about other people and their things, it i sometimes used when talking about your own situation.

*御姿=osugata=one's appearance
*御便り=otayori=one's letter
*御台所=odaidokoro=one's kitchen


2) We put 御 to our own action to show our humble feelings towards others.

★御説明=gosetsumei=explain

Ex.御説明致します。
=gosetsumei itashimasu.
=Let me explain./Allow me to explain

★御迷惑=gomeiwaku=nuisance,troubles

Ex: 御迷惑をおかけして申し訳ございません。
=Gomeiwaku wo okakeshite moushiwake gozaimasen.
=I apologize for all the trouble I caused.

As for the pronunciation, There is a basic rule,


•お=(=o): use with a noun with kun-reading, verb (renyou-kei), adjectives, adverbs


•ご=(go): use with a noun with on-reading including someone's actions.

Hope you are familiar with the words, 音読み(=On-yomi) on-reading and 訓読み(=kun-yomi) kun-reading. On-reading is originally from China and Kun-reading is the traditional Japanese way to read kanji.
For example, the on-reading of 飯 is "han" and it's kun-reading is "meshi".
So, we read 御飯 as gohan, rice, meal


But forget it! There are many words that don't follow the rule and we never think "Oh this word is Kun reading therefore I should use お(=o)..." No! And yes, sometimes we wonder which one to use as well. What you can do is to remember the word with the prefix as a set.

I will give you a simple list.

御=o=(We often use hiragana お=o instead of writing kanji, 御)
*御茶=お茶=ocha=tea
*御水=お水=omizu=water
*御名前=お名前=onamae=name
*御金=お金=okane=money
*御年寄=お年寄=otoshiyori=aged people
*御体=お体=okarada=body, health
*御勤め=お勤め=otsutome=work
*御目覚め=お目覚め=omezame=to be awake, waking up
*御愛想=お愛想=oaiso=check
御

=go
*御主人=goshujin=one's husband
*御面倒=gomendou=trouble
*御近所=gokinjo=neighbors
*御両親=goryoushin=one's parents
*御旅行=goryokou=trip, traveling
*御住所=gojuusho=one's address
*御健康=gokenkou=health
From the pic.
「ああ、よかった!仕事も決まったしこれで御の字だ。」


=Aah yokatta! Shigoto mo kimattashi korede on no ji da.
=

Goodie! Now I got a job so I can relax(without worrying about anything.).
Key word :

御の字=on no ji
字

=ji means

a letter
. So the literal meaning of
御の字=on no ji
is "

a letter of

御

"
For example when something you wished for came true, (Ex: you pass the entrance examination, get a nice job,etc) and you are very happy and grateful you say it's

御の字

=

on no ji.
Ex. 試験も受かったしこれで御の字だ。
=Shiken mo ukattashi kore de on no ji da.
=I passed the exam and I am very happy. (There is nothing to worry about.)
Ex. ああ、これで就職できたら御の字なのに。
=Aa korede shuushoku dekitara on no ji nanoni =Ah, only if I had a job,..(it would be perfect.)
We used to use this word for something extremely grateful but nowadays we use it more casually and for things that are less important.
Ex. オークションでこれが3千円で売れたら御の字だ。
=Ookushon de korega sanzenen de uretara on no ji da.
=It would just great if I could sell this for ¥3,000 at the auction.