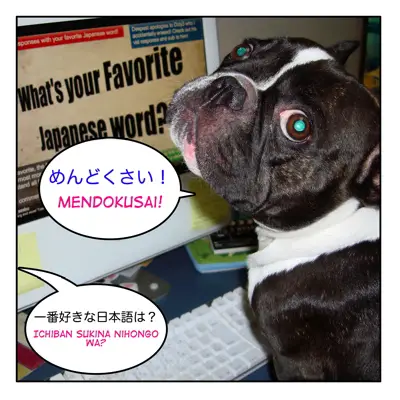 :o 「一番好きな日本語は?」
Ichiban sukina nihongo wa?
"What's your favorite Japanese word?"
「めんどくさい!」
"Mendokusai!"
" A lot of work!"
Today's word is

「めんどくさい!」"Mendokusai!":too much work!, It is a pain!, a lot of work, troublesome
Please watch the video, 「一番好きな日本語は何? ichiban sukina nihongo wa nani? What is your favorite Japanese word?」first and check the following list that I made.
リスト(= risuto) list

♦鬱 utsu  depression
♦激辛 gekikara Super spicy 激安 Gekiyasu Super cheap

♦面白いomoshiroi    interesting amusing funny

♦ぬいぐるみ nuigurumi  a stuffed animal

♦くちばし kuchibashi beak
「僕、あの鳥のくちばし大好き!」
Boku ano tori no kuchibashi daisuki!
= I love that bird's beak!
♦わがままwagamama selfish
Ex. 「あなたは本当にわがままです。」Anata ha hontou ni wagamama desu! = You are really selfish!
♦以心伝心 ishin denshin heart-to-heart (nonverbal) communication, some dictionaries say "telepathy"

♦百貫デブ hyakkan debu very fat (Are you talking to me?)

♦愚かな orokana foolish

♦満腹 manpuku full stomach

♦忍耐nintai patience

♦お手紙 otegami a letter

♦旅行 ryokou (to take) a trip

♦強い tsuyoi strong

♦僕 boku "I" (used by boys. I am a girl so I won't use it.)

♦ドキドキ dokidoki thumping (heart beating sound) ドキドキする dokidoki suru be nervous,get excited

♦お転婆 otenba a tomboy

♦ニキビ nikibi acne、zit

♦そろそろ失礼します。 sosoro shiturei shimasu. I am leaving now. (formal)

♦分かりました wakarimashita I understand.I got it.

♦あほaho stupid, idiot (mainly in western area in Japan)

♦楽しい tanoshii amusing, fun

♦外人 gaijin foreigner (<外国人 gaikokujin <外国の人 gaikoku no hito<外国の方 gaikoku no kata : →more polite)

♦キラキラ kirakira shimmering, dazzling, sparkling glittering

♦笑う門には福来るwarau kado niwa fuku kitaru. laughing brings happiness

♦お疲れ様です。 otsukare sama desu. Thank you for all your (hard) work.

♦お疲れ様でした otsukare sama deshita. (Same as above but in a past tense.)

♦ホッチキス hocchikisu a stapler

♦すみません sumimasen Excuse me! or I am sorry!

♦裸 hadaka naked

♦分かるwakaru to understand Ex. 分かりましたか? wakarimashitaka? Did you understand?

♦心臓 shinzou heart (心 kokoroもheartですね。Kokoro(mind) is also "heart" )

♦花火 hanabi firework

♦自転車 jitensha bicycle

♦あんこ anko bean jam

♦袋fukuro
「袋いりますか?」Fukuro irimasuka=Do you need a bag. a bag

♦和を以て貴しとなるwawo motte toutoshi to naru It is important to get along.

♦スズキ suzuki Suzuki
♦ブルースリー buruusu rii Bruce Lee (Wait! Is he Japanese!?!

)
♦ドラゴンボール doragon boul Dragon Ball

♦コンビニ konbini a convenience store

♦芸術家 geijyutuka an artist

♦かぼちゃ kabocha a pumpkin or squash

♦大丈夫 daijyoubufine, all right,OK 大丈夫ですか? daijyoubudesuka? Are you all right?/OK?

♦無心 Mushin Budddhist term, free from thought. Empty mind

♦ちょっと伺いたいことがあるんですが。Chotto ukagai tai koto ga arun desu ga. Excuse me but may I ask you a question?

♦可愛い kawaii cute

♦下着 shitagi underwear

♦千鳥足 chidoriashi to stagger around

♦誰ですか? dare desuka? Who are you? 私は鞄です。watashi wa "kaban" desu. "I am a bag"

♦抱きしめて Dakisihmete Hold me tight!

♦仕込む shikomu to prepare Ex. 芸を仕込む gei wo shikomu  to train (an animal) some trick. 仕込む

♦かたじけない katajikenai Samurai language "Thank you!" "I am sorry!"

♦むっちゃ muccha (colloquial) Very! Super!

♦まさか masaka It can't be true! No way!

♦電車 dennsha An electric train

♦全部 zenbu all, everything 全部食べなさい zenbu tabenasai "Eat everything!"

♦食べる taberu to eat

♦星 hoshi a star

♦輝かしい未来を kagayakashii mirai wo! (To have) brilliant future

♦一生懸命 isshoukenmei To do one's best

♦復讐 fukushuu revenge

♦失礼します。shiturei shimasu. "May I come in?" "Good-bye" "Excuse me..",etc.

♦絶望した zetsubou shita disappointed

♦蝉 semi cicadas

♦変身 henshin transform

♦それほど sorehodonot so much この林檎はそれほど高くないです。kono ringo wa sorehodo takaku naidesu. This apple is not that expensive.

♦弱肉強食 jyakuniku kyoushoku dog-eat-dog world. Survival of the strongest.

♦木漏れ日 komorebi sunbeams streaming through leaves

♦飲み放題 nomihoudai all you can drink

♦乾杯 kanpai Cheers!

♦二日酔い futsukayoi hangover

♦ビール biiru beer

♦飽きる akiru to get tired of something.

♦うるさい urusai noisy, annoying

♦妖怪 youkai specter, spook, ghost, goblin, etc.

♦おっぱい oppai boobs

♦いやいやいや… iya iya iya… Oh, no, no, no…

♦散歩に行く? sanpo ni iku? Wanna go for a walk?

♦感謝しています。Kansha shiteimasu. I appreciate it.

マギー先生より Maggie sensei yori. From Maggie-Sensei
長いリストでしょ! nagai risuto desho! Isn't it a long list?

あ〜めんどくさかった!a~ mendokusakatta! Boy, it was a lot of work for me…

でも、皆さんも、お疲れ様でした! Demo minasan mo otsukare sama deshita! But good job everyone!